Hapkido Uniforms
How to Order
To order, call us at 614-268-4327 during store hours.
Pick up your order in-store, or we'll ship it to you.
Minimum $25 order for shipping.
We charge actual shipping.
All items and prices are subject to change or error. Call for the most accurate information.
Hapkido Uniform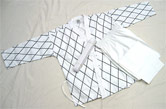 Many brands, including Best, Golden Tiger, and MTI/Swift.
Poly-cotton blends.
Medium and heavy weight.
Elastic waistband pants included.
Colors: white with black stitching, black with white stitching, white with red stitching, black with red stitching, and black with gold stitching.
Sizes 3-6 $ 49.95
Sizes 7-8 $ 49.95 and up