Haidong Gumdo Korean Sword
해동검도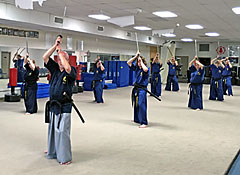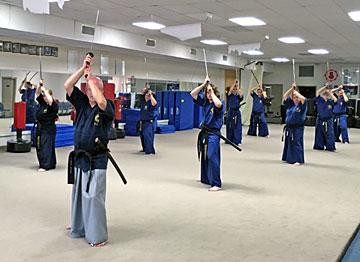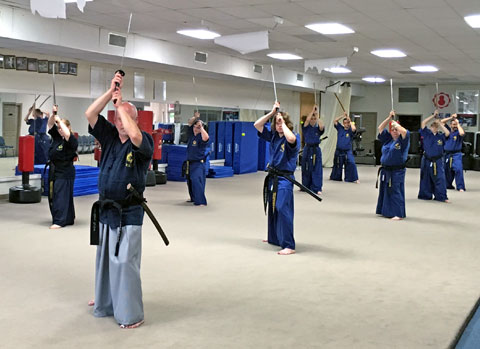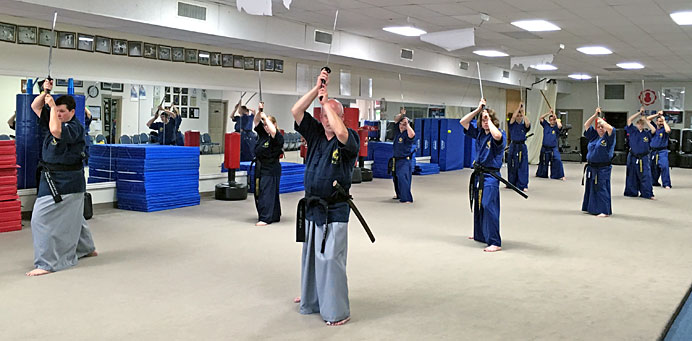 The complete art of Korean sword training includes learning all the cuts and blocks with the sword as well as forms, sparring, and paper, fruit, bamboo & straw cutting.
Students do not use real swords until they are Black Belts.
Monthly Fees
2 or more days a week
$100 per person.
$150 for a family.
1 day a week
$80 per person.
$120 for a family.
NO CONTRACTS. Your First Class is Free.
Class Times
Monday

5:30 pm to 6:30 pm

Tuesday

7:30 pm to 8:30 pm

Thursday

7:30 pm to 8:30 pm

Friday

5:30 pm to 6:30 pm

Sunday

4:00 pm to 5:00 pmBlack Belts
Class times may change, call for the most accurate information.
Things you will learn in Haidong Gumdo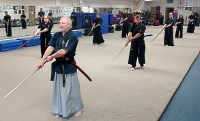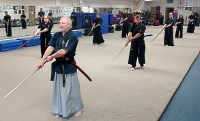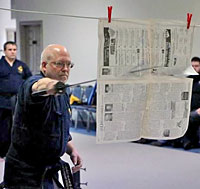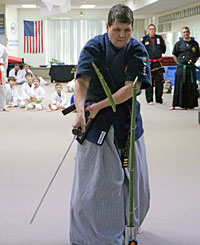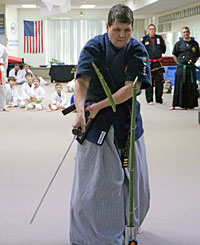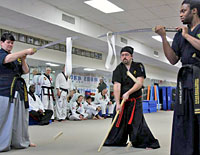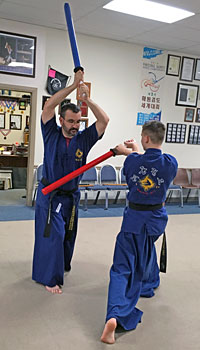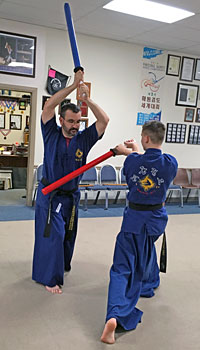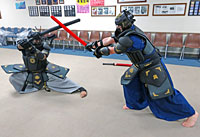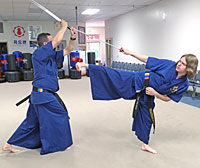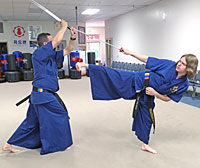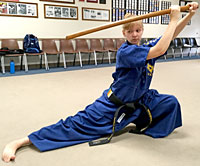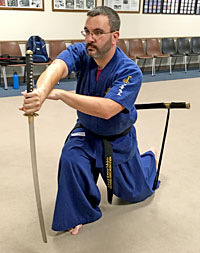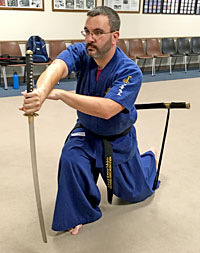 Swords used in Haidong Gumdo

An Jung Gum Foam Sword

목검 Mok Gum Wooden Sword

가검 Kah Gum Dull Practice Sword

진검 Jin Gum Real Live Sword
Other Haidong Gumdo Items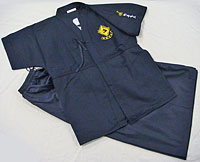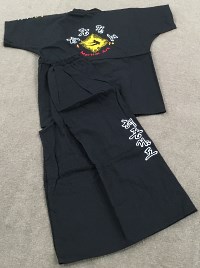 What you will need and when, in your training:
After the first month you will need a wooden sword (it is a certain type--please check with Master Laura if you have questions)
Before your first test, you will need to get an official Federation Uniform (color belt students wear black, Black Belt students wear Navy Blue)
When you receive your Green Belt you will be eligible for a Ka gum (dull practice sword) - you must have one to test for Black Belt.
Once you receive your Black Belt you will be eligible for a Jin gum (real live sword - must be 18) - you must have one to test for 4th Dan.
Official uniforms and bowing to the flag and instructors to show respect upon entering the practice floor are requirements of our martial arts system with no exceptions.
Haidong Gumdo Belt Order
| | |
| --- | --- |
| | White Belt |
| | Yellow Belt, 7th Gup |
| | Orange Belt, 6th Gup |
| | Green Belt, 5th Gup |
| | Blue Belt, 4th Gup |
| | Purple Belt, 3rd Gup |
| | Brown Belt, 2nd Gup |
| | Red Belt, 1st Gup |
| | Deputy Black Belt |
| | Black Belt, 1st Dan |
| | Black Belt, 2nd Dan |
| | Black Belt, 3rd Dan |
| | Black Belt, 4th Dan |
Instruction by
Instructor


Phyllis McMullen

Instructor


Howard Watts

Instructor


G. Duncan Langlois

Assistant Instructor


Chad Bridges

Assistant Instructor


Candie Vazquez