T-Shirts
All items and prices are subject to change or error. Call for the most accurate information.
White Tiger COMA T-Shirt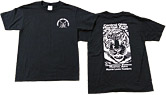 Features an original tiger illustration on the back, and our logo on the front.
Available in: Black, Dark Gray, Royal Blue, Cardinal Red, Hunter Green, Navy Blue, Light Blue, Orange, Purple, Teal, Pink, Yellow, and Brown.
Child Sizes Medium, Large, 10 $ 15.00
Adult Sizes S, M, L, XL $ 15.00
Adult Sizes XXL, XXXL $ 18.00