Weapons
All items and prices are subject to change or error. Call for the most accurate information.
We have a wide selection of practice weapons, including: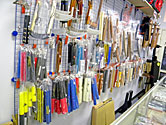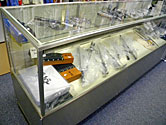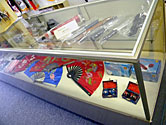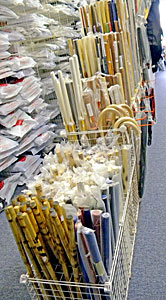 Varied metal practice swords.
Wood Bokken in white and red oak, bamboo.
Wood Tando in oak.
Wood Kung Fu broadswords in oak in two sizes.
Wood Bokken with Scabbard in two sizes.
Wood Tai Chi swords in oak in two sizes.
Rattan Canes.
Shinai, sizes 34 (41" long), 36 (43" Long), 38 (46" long), 39.
Escrima (26") and Kali (28") sticks in foam, oak, white wax, rattan, graphite.
Kama (10" and 12") in oak, wood, and foam.
Tonfa in oak and ash, sizes 14", 18", 20", and 24".
3-Sectional Staff in foam, oak, and rattan.
Sais in chrome, round octagon, black, training in vinyl.
Nunchakus 8", 12", 14" in foam, oak, rattan, bamboo, white wax, graphite, foam, many designs.
Bo staffs 36", 50", 60", 66", 72" length, straight or tapered, 1" or 1.25" diameter, white or red oak, rattan, graphite, ash, waxwood, many designs and styles.
Weapon display stands and bags.
Metal and rubber throwing stars.
Throwing knives.
Bamboo and metal fans in black, red, and blue.
Practice knives and guns in metal, rubber, and wood.
Call ahead for more details.